Laos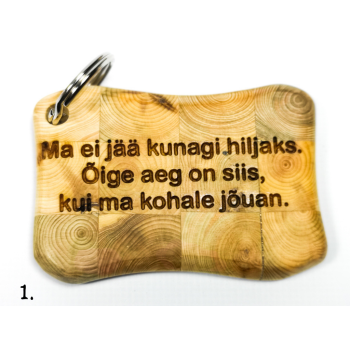 Zoom
Keychain Engraved juniper (EST) VH05
SKU:
6504
Unit:
tk
Qty:
54
1.Ma ei jää kunagi hiljaks. Õige aeg on siis, kui ma kohale jõuan.
2.Ma võin küll ingel olla, aga kui mu tiivad murtakse istun luua selga.
3.Parimad asjad elus teevad su kas paksuks, purju või rasedaks.
4.Et asjade üle vaielda, pole vaja neist aru saada.
5.Pill tuleb pika ilu pääle, kusi kange naeru pääle.
6.Kõik tahavad elada, aga keegi ei taha olla vana J. Swift
7.See, kes küsib, on rumal viis minutit. See, kes ei küsi, jääb igavesti lolliks.
8.Ma vaatan taevasse ainult siis, kui tahan aevastada.
9.Mida rohkem ma mehi tunnen, seda rohkem oma koera armastan.
10.Ainus, mis segab õppimist, on haridus.- Albert Einstein
11.Vanaisa ütles alati, et elu on nagu nõela otsast mee lakkumine.
12.Ma pole taimetoitlane, kuid ma söön loomi, kes on.
13.Ma suhtun inimestesse väga hästi, sest ma ei oota neilt midagi head.
14.Kui mul on vaja teie arvamust, annan ma teile sellest teada.
15.Kui õnn on sinu poolel, saad sa hakkama ilma ajudeta.
16.Järgmises elus tahaks ma olla lind. Mul on juba nimekiri tehtud keda täis sittuda.
17.Olukord on sitt, kuid see on meie tuleviku väetis.- Lennart Meri
18.Julge hundi rind on haavleid täis.
19.Ärge tõrelege ilmaga. Kui ilm ei muutuks, ei saaks üheksa kümnendikku inimkonnas alustada ühtegi vestlust.
20.Gurmaan, kes loeb kaloreid, on nagu prostituut, kes vaatab kella.
21.Kellel pea ei jaga, sellel jagavad jalad.
22.Kõikidest asjadest, mida sa kannad, on kõige tähtsam su näoilme.
23.Üks loll võib rohkem küsida, kui kümme tarka vastata.
24.Mida rohkem ma mehi tunnen, seda rohkem oma koera armastan.
25.Õnn on see, kui üks mure on lõppenud ja teine pole veel alata jõudnud.
26.Viin on tarkade inimeste jook. Kahju, minu sõbrad joovad rummi.
27.Laisk sureb enne surma laiskuse pärast.
28.Mulle meeldiksid hommikud rohkem, kui nad algaksid hiljem.
29.Ärge võtke elu liiga tõsiselt. Nagunii te sellest eluga ei pääse.
30.Ma olen üsna heas vormis, arvestades minu praegust vormi.
31. Õnn on see, kui üks mure on lõppenud ja teine pole veel alata jõudnud.
32.See, mida teised Sinust mõtlevad, ei ole Sinu mure.
33. Iga triibutõmbaja poile veel joonestaja.
34. Vana viga on alati populaarsem kui uus tõde.
35. Naised ja uksed annavad alati järele, kui neid õrnalt kohelda.
36. Iseseisvalt mõtlemist ei andesta sulle keegi.
37. Lapsi tuleb teha laia ja lageda mäe otsas, siis tulevad lapsed suure silmaringiga.
38. Kui tahad lihtsat asja keeruliseks teha, siis lükka seda pidevalt edasi.
39. Kõige raskemini mõistetavam asi on maailmas on tulumaks.
40. Hea otsus tuleneb kogemusest, aga kogemus tuleb sageli halvast otsusest.
41. Kriisi suudab ületada iga idioot aga igapäevane elu on see, mis meid hukutab.
42. Inimene on ainus loom, kes meisterdab endale ise puuri.
43. Ära vaidle rumalaga. Kõrvaltvaataja ei pruugi vahet teha.
44. See, kes armastab üksnes iseennast, on suur eelis - tal pole konkurente.
45. Ühe inimese lagi on teise põrand.

A handcrafted juniper keychain is a perfect gift and souvenir. In addition to the smooth design it also smells great. The keychain is made more special by an engravement with a bit of humour or wisdom.

PS! The shapes of the keychains may vary because they are handcrafted.

To get a keychain with the text you want, please add the number and text of the keychain to your order.
| | |
| --- | --- |
| Pikkus | 55 |
| Laius | 42 |
| Kõrgus | 7 |